Surgical Technologist/Technician Hybrid
---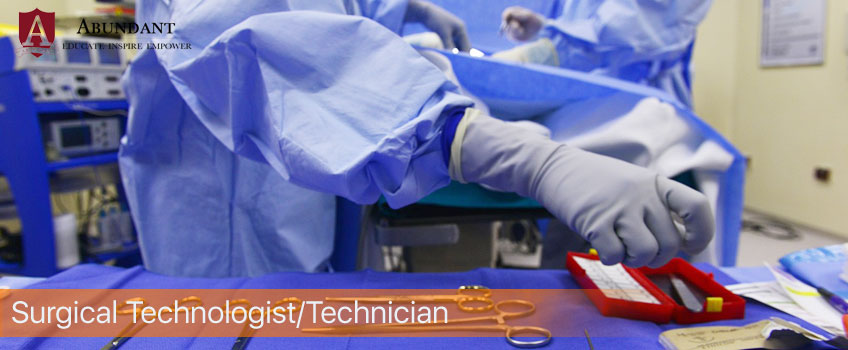 Surgical Technologist also known as Surgical Technicians, Scrub Technicians or Operating Room Technicians from Abundant leave the program fully equipped to enter the world of medicine as skilled experts. Surgical Technologist are depended upon to assist in crucial aspects of surgery from day one who assist surgeons and other members of the operating team and seen as critical to the success of every operation. Whether dealing with top surgeons, nurses, anesthesiologists, or any member of the highly trained medical crew, they are called upon before surgery as well as during and after the procedure.
Classroom instruction are 760 hours. (offered in a virtual environment/with a live instructor).
In addition, a clinical internship of a minimal of approximately 300 hours required. (onsite at a partner facility 125 caselogs are required usually in scrub 1).
Both day and evening programs may be concluded within 15 months, and that time frame is an approximation.
Surgical Technologist are entrusted with all aspects of operation preparation. Of course, they must provide a consistently sterile surgical setting. They are in charge of disbursing surgical appliances to all who need them. An equally important task falls to them: assisting in contact and care both before and after the operation, when needed. Here at Abundant, the protocol for the Surgical Technologist program is offered with core courses, followed by their academic program and an internship. Abundant unlike other institutions, assess each applicant individually to better determine if any of the core courses can be applied towards life or work experiences. furthermore, the internship is assessed similarly. credit is given to those who are actively working as a Surgical Technologist, where internship as a whole or in part may be waived based on prior or current work experience.
Employability
There are almost no medical arenas that do not hire Surgical Technologists. They can be found in out patient surgical facilities, in urgent care clinics, hospitals operating room, and ambulatory care centers, central sterile processing departments and are privately employed and are hired directly by surgeons. A Surgical Technologist can be hired in all of these diverse locales due to his or her broad-spectrum educational background. However perhaps more important is a Surgical Technologist's uniquely specialized area of expertise.
Registry Exam/Certification – Qualifications
Graduates who successfully completes and pass their program with a minimal of 3.0 GPA will be eligible to take the Tech in Surgery TS-C offered by the – Certified examination offered by the National Center for Competency Testing (NCCT).
Graduates who pass the NCCT exam will earn the TS-C credential; a national industry recognized credential accepted by employers.
Certification or license Disclosure
Abundant having its headquarters in the state of New Jersey, goes by the state educational requirements for certification in New Jersey. If you live outside of New Jersey or you are planning to seek employment in another state, please review the requirements for your state as it may differ in each state and Abundant encourage you to seek requirements for your state.
* New Jersey law mandates that all Surgical Technologists must graduate from an accredited school, program or hold a certified Surgical Technologist credential from a recognized organization as Abundant graduates meet these requirements.
Prospects for the Future
Within the state of New Jersey, salaries range from $41K to $70.5K
Prospective employment is thought to be in the vicinity of 12% from now until 2026,. This percentage is higher than the average career or job growth ratio.
Where are the most career opportunities? The large bulk of them can be found in hospitals and in medical arenas which feature outpatient care.
Source: US Bureau of Labor Statistics. Abundant will do all that it can to promote the probability of its students employability, however it does not guarantee employment.
Our Admissions Requirements are Attainable!
The minimum educational levels which Abundant requires are attainable. Abundant does maintain selective enrollment but we will hand select eager, passionate and those individuals who have either earned a high school diploma or Equivalent). We will next look for candidates whom we deem to be best suited for the training and in pursuit of career as a Surgical Technologist.
Auxiliary Measures for Acceptance
As a final screening practice for our applicants, a criminal background check and certificate of good health will be necessitated. Applicants must obtain CPR ans liability insurance before or by the end of the academic program. Failure to do so, may result in not being able to obtain an Internship as the internships are based on the top of the class and first come first served. Additional requirements and Fast Track available to those who are found eligible.