Surgical Technologist/Technician
---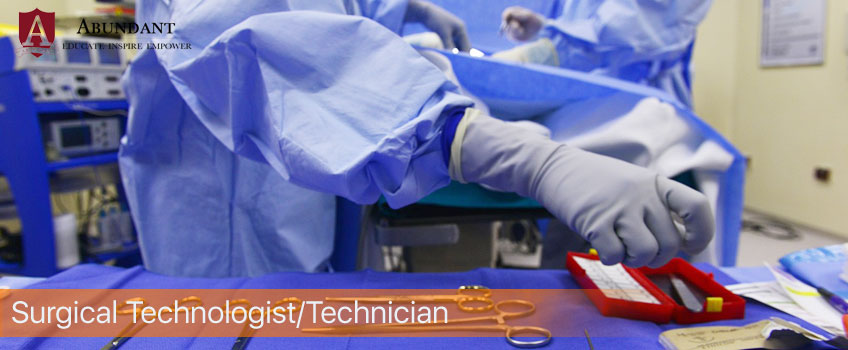 Scrub Technicians from ATI leave the program fully equipped to enter into the world of medicine as skilled experts. Operating room technicians are depended upon to assist in crucial aspects of surgery from day one. Also referred to as Surgical technologists, Scrub technicians assist surgeons and other members of the operating team, and are seen as critical to the success of every operation. Whether dealing with top surgeons, nurses, anesthesiologists or any member of the highly trained medical crew, Scrub technicians' expertise is called upon before surgery as well as during and after the procedure.
Scrub technicians are entrusted with all aspects of operation preparation. Of course, they must provide a consistently sterile surgical setting. Too, they are in charge of disbursing surgical appliances to all who need them. An equally important task falls to them: assisting in contact and care both before and after the operation, when needed. Here at ATI, the protocol for the Surgical Technologist courses is taught over a 400- hour clinical internship which is not mandatory, but is a wise choice. In this manner, students who opt for this program may explore whether or not they have the adaptability of participating in classes while not having to worry about failing the courses due to not being able to complete the required courses. Students who opt for this internship are required – no exception t0 – follow through with the entire internship during standard business hours. This pertains to Day as well as Evening classes. Worksites are not equipped to enable students to finish clinical hours on weekends or evenings.
These internships must be carefully coordinated with the work sites and so ATI has put forth a policy which requires students to notify the school 16 weeks prior of the completion of their program of choice. When it comes to the actual placement of students at work sites, ATI shall perform these duties.
What will the internship provide to students in the way of real-time learning? This internship has been developed in such a way that students will participate in hands-on learning. They will experience, first-hand, the duties of a Surgical technologist. Mentors will monitor and direct students so that they never feel at a loss. Of course, students who decide to opt to pursue a clinical internship will be charged an additional fee. Please note: due to the prominent nature of these internships, students who seek to participate MUST have completed all courses and all required lab work.
Our member sites are to be the internship (clinical)"home" of students — and students may be placed in either one or more of these member sites, dependent on the administrators' decisions — until the completion of the student's clinical hours. Students who seek specific schedules will need to confer with their placement professionals, as schedules are organized as per the opportunities at each site.
Employability
There are almost no medical arenas that do not hire Surgical technologists. They can be found in operating theatres in hospitals nationwide, in emergency care clinics, hospital emergency rooms, outpatient care centers and the SPD (sterile processing department) or CSSD (central sterile services department) in hospitals. Too, there are privately employed scrubs who are hired directly by surgeons. A Surgical technologist can be hired in all of these diverse locales due to his or her broad-spectrum educational background. However perhaps more important is a Surgical technologist's uniquely specialized area of expertise.
Specific job openings suitable to Surgical technologists include: clinical donation specialist, surgery schedulers and central service managers. If a graduate wishes to branch out into different career fields, there is always R&D (Research and Development), product sales, preservation of tissues/organs and cardiac catheterization laboratories.
Registry Exam/Certification – Qualifications
An examination for certification is offered by the NCCT (National Center for Competency Testing). ATI graduations who score a passing grade automatically qualify for the TS-C achievement — the Tech in Surgery credential, which is an intermediate level recognition.
Inasmuch as the NCCT is an individual entity and not affiliated with this institution and inasmuch as NCCT 's policy is subject to revision or alteration at their discretion, ATI is unable to intervene in the outcome of the testing protocol. It therefore can not guarantee either eligibility requirements nor testing results.
Program Duration
Classroom instruction and lab are 960 hours.
Clinical internship (optional) are 400 hours.
Both day and evening programs may be concluded within 12 months, and that time frame is an approximation.
Courses are presented in a rolling schedule timetable and are entirely contingent on number of students that enroll.
Courses Included in Exhaustive Teaching Protocols are:
Anatomy & Physiology
Aseptic Technique
Infection Control
Medical Terminology
Instrumentation
Sterilization and
Surgical Procedures
Prospects for the Future
Within the state of New Jersey, salaries range from $41K to $70.5K
Prospective employment is thought to be in the vicinity of 12% from now until 2026,. This percentage is higher than the average career or job growth ratio.
Where are the most career opportunities? The large bulk of them can be found in hospitals and in medical arenas which feature outpatient care.
Source: US Bureau of Labor Statistics. ATI will do all that it can to promote the probability of its students' employability but does not guarantee employment.
Our Admissions Requirements are Attainable!
The minimum educational levels which ATI requires are attainable. ATI does maintain selective enrollment but we will administer a Wonderlic Scholastic Level Exam if you have either earned a High school diploma or an HSE (a High School Equivalency). We will next look for a passing grade.
In re: the Surgical Technologist's selective vetting process, we first cull those applicants who meet the minimum educational requirements, and achieve a passing grade in our administered exam. Next, keeping in mind the limited number of students allowed per classroom setting – we keep the sizes small to facilitate learning — we solely seek out those candidates whom we deem to be best suited for the training in and pursuit of a job as a Surgical technologist.
Auxiliary Measures for Acceptance
As a final screening practice for our erstwhile students, a criminal background check and certificate of good health will be necessitated. Too, applicants must have a thorough knowledge of CPR. Any questions, please don't hesitate to contact Administration.
Unfortunately, at this time, ATI is not aware that this particular program is part of the protocol offered by the Department of Labor's One-Stop division or through its Job Center.
Payment Plan: There is an extended 12-month payment plan for this program which is available to qualified private students.