Nationally Certified Pharmacy Technician Training Hybrid
---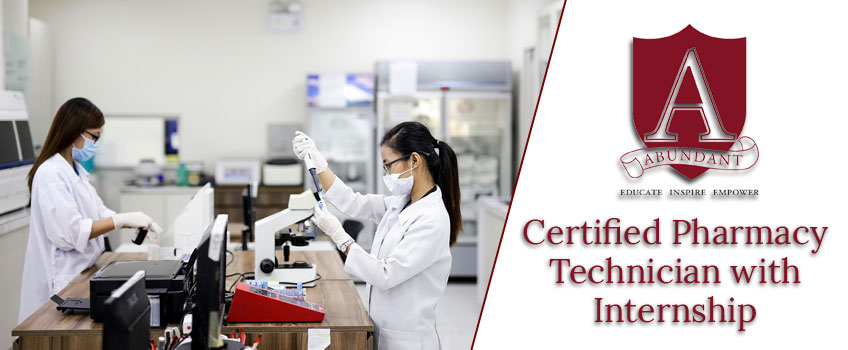 WASHINGTON, DC — New research shows nationally certified pharmacy technicians are more committed to a pharmacy career and have a greater desire to take on new and expanded responsibilities than non certified. The study*, "Assessing Pharmacy Technician Certification," published in the June 2019 Journal of the American Pharmacists Association (JAPhA), compared the viewpoints of certified and noncertified technicians and explored the perceived value of certification in the areas of medication safety, skills, and abilities, experience, career engagement and satisfaction, and productivity.
Abundant Pharmacy Technician program is an official PTCB-Recognized Program, and Our Pharmacy Technician training online program is listed as recognized by the PTCB website as an education partner.
"A Nationally Certified Pharmacy Technician is a title-protected, licensed health care provider who performs pharmacy-related functions, working collaboratively with a licensed pharmacist. Pharmacy technicians work in various locations (usually in community, retail, and hospital pharmacies). Still, they can also work for long-term care facilities, pharmaceutical manufacturers, third-party insurance companies, computer software companies, or government or teaching. Job responsibilities include administering prescription drugs and other medical devices to patients and instructing them on their use.
The Pharmacy Technician Program
The Pharmacy Technician program is offered as an Instructor led live virtual training program. This program prepares students to become skilled, entry-level pharmacy technicians. Students will receive industry training and practical, hands-on experience through a required internship at one of our partner onsite pharmacies following the academic program. The program will instruct students in a number of areas including medical terminology, drug administration, infection control, drug classifications, customer services and pharmacy management.
400 clock hours
Classroom instruction and lab – 280 hours
Required Clinical internship – 120 hours
The curriculum can be completed in approximately four to five months.
Employment for Pharmacy Technicians
Pharmacy technicians are employed in both local retail pharmacies, distribution centers/warehouses, and hospitals. Job opportunities for pharmacy technicians may also be found with online pharmacies, pharmaceutical manufacturers, nursing homes, and insurance companies. Job growth is expected to increase over the next ten years, so job prospects are very good for qualified technicians.
Hospitals
Local retail Pharmacies
Nursing Homes
Online Pharmacies
Distribution centers/warehouses
Pharmaceutical Companies
Certification / Registry Exam Eligibility
Upon completing the Nationally Certified Pharmacy Technician program, students can take the Pharmacy Technician Certification Exam administered under the Pharmacy Technician Certification Board (PTCB) to earn the Certified Pharmacy Technician (CPh T) credential.
Minimum Admission Requirements
High school diploma or equivalent
Frequently Asked Questions
1. How do I become a Nationally Certified Pharmacy Technician?
To become a Nationally Certified Pharmacy Technician, applicants with a high school diploma can sit for the Pharmacy Technician Certification Exam (PTCE), conducted by the Pharmacy Technician Certification Board (PTCB).
After they pass the test, they become certified and will require to be re-certified every two years.
2. Do all states require pharmacy technicians to hold the certification?
Some states do not require certification; however, our Pharmacy Technician training online course prepares candidates for the exam. Moreover, certification helps candidates distinguish the individual from others in the field and increase their job opportunities.
3. What benefits come from being a nationally certified pharmacy technician?
A Nationally Certified Pharmacy Technician can work in other states as a certified pharmacy technician. Besides, an individual may receive increased earning potential with more job opportunities.
4. How do I pay for this program?
FINANCING OPTIONS AVAILABLE THROUGH THIRD PARTY PARTNERS:
Deferred payment while in school
No interest loans
Immediate Repayment Full payments in school
WE ACCEPT APPLICATION FOR
Workforce Development- One Stop Center
GI Bill and Veterans Affair funding accepted Veterans
DVRS through DOL
DVRS through Tungsten Partner with some DOL One-Stops
DACA/Dreamers- Non-US citizens
Private Students
Employer sponsored