Central Service / Sterile Processing Technician Training Online
---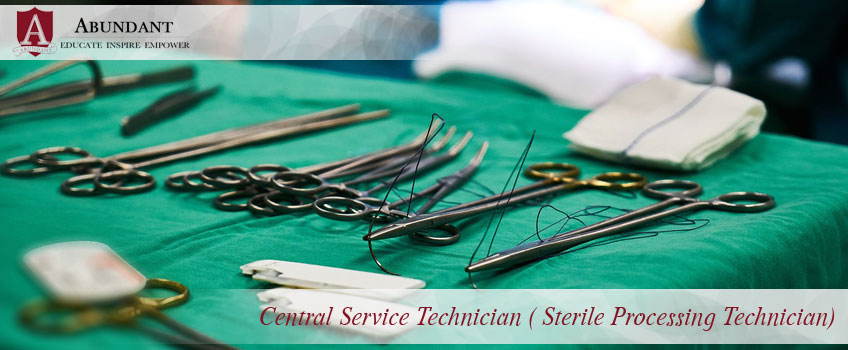 The Central Service Technician (Sterile Processing Technician) Program (SPD), also known as medical equipment preparers, is designed to present the student with the knowledge and skills required for entry-level work as a sterile processing technician. The curriculum focuses on introductory sterile processing notions and professional proficiencies. It will prepare students to accomplish the necessary activities that are conducted daily in the sterile processing department. The course is designed to develop the comprehension learners need to sit for the certified SPD Technician certification exam.
Sterile processing is an indispensable part of the medical industry. The role of the central service technician is to sanitize and prepare medical instruments and tools to prevent infection and manage inventories and related areas in the medical industry.
Central service technicians provide assistance to resolve issues and customer support for interdepartmental needs, handle the specimen issue and maintain excellent lab protocol. When a patient undergoes surgery, the technician sterilizes the required instrument, reviews the surgery schedule, and monitors the overall instrumental details.
Medical Equipment
A central service technician has the responsibility to sterilize and assemble the surgical instruments. Also, technicians are trained to monitor the chemical and biological wash solutions in decontaminating them.
The scope of central service technicians has experienced massive growth. It is further expected to grow exponentially. Overall, Sterile processing is a well-paying, demanding career in the healthcare industry—source: U.S. Bureau of Labor Statistics, Occupational Employment, and Wage Statistics. The median annual wage for Sterile Process Tech/Central Service Technicians, also known as medical equipment repairers, was $51,610 in May 2020.
Frequently Asked Questions
1 What are the other names for sterile processing technicians?
Sterile processing technicians are also known as
Medical Equipment Preparers
Central Processing Technicians
Central Sterile Supply Technicians
Certified Registered Central Service Technicians
Sterile Preparation Technicians
Sterile Processing and Distribution (SPD) Technicians
2 What exactly does a CST do?
A central service technician decontaminates, inspects, assembles, and sterilizes instruments and other surgical equipment. Here, the technicians need to manage inventory control, order and supply, inspect, maintain, deliver and retrieve equipment and instruments for the surgery suite, intensive care units, and emergency room.
A skilled CST has the ability to memorize and identify hundreds of surgical instruments and is exceptionally thorough in detail. A CST has the knowledge and the basic principles of sterilization and high-level disinfection.
3 Do Sterile Processing technicians hold Certification?
In terms of government regulations, Certification is required only in the state of New Jersey. But, the legislation requiring sterile processing is pending for two states, i.e., New York and Pennsylvania. However, in other states, Certification is strictly voluntary. Many hospitals and surgical centers require certified central service technicians.
4 How long does it take to obtain Certification?
Currently, there are two organizations that provide sterile processing certification. These are
The Certification Board for Sterile Processing and Distribution (CBSPD)
The International Association for Healthcare Central Service Material Management (IAHCSMM)
For CBSPD, you need to complete a minimum of 80 hours of instruction and pass the certification exam. IAHCSMM requires a minimum of 400 hours of instruction and training through its accredited program before being qualified for the Certification.