Certificate of Biblical Studies
---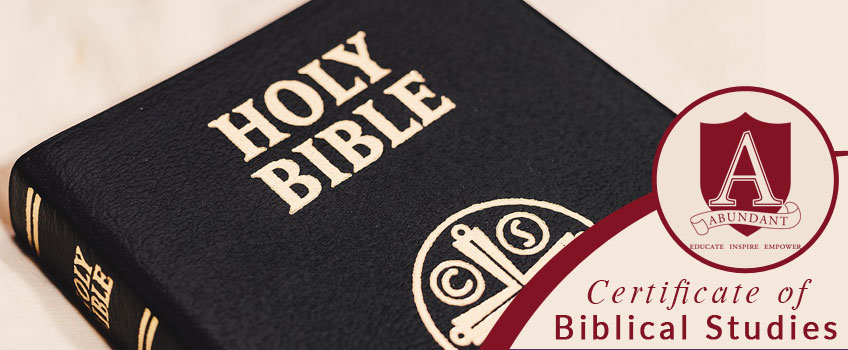 Overviews
Biblical studies programs at the certificate, levels teach students to examine the Bible as a guide to Christian practices, as well as to look at its history and influence.
Essential Information
Certificate programs in biblical studies are designed for students who are looking to improve their understanding of Christianity and to develop skills for mentoring others in the Christian faith. Associate's and bachelor's degree programs prepare students for careers as ministers, religious counselors, missionaries and other areas of service. Some degree programs require that students be involved in church work and Bible study groups. Courses in all of these programs include Bible history, Bible study methods and using the Bible to minister to others.
Certificate in Biblical Studies
The curriculum explores Christian philosophy and theology with an emphasis on values and spirituality. Students study the Old and New Testaments, the history of the Christian church and bible study techniques. Other focus areas are Christian and Israeli history, Genesis and biblical prophets.
Coursework includes studies in:
• Biblical language
• Biblical research
• Salvation
• Human origins
• Church organization
Popular Career Options
Graduates go on to work in churches, youth ministries and in a variety of other settings. Options can also be found at religious non-profit organizations, hospitals, corrections centers, in the armed forces and more. Some job titles for graduates are:
• Sunday school teacher
• Bible studies leader
• Youth activity assistant
• Missionary
• Youth minister
Employment Outlook and Salary Info
Since denominations and churches differ widely on the training, credentials, and level of education required for becoming ministers, counselors or education directors, individuals should research carefully to be sure specific degrees will move them in the desired direction. The U.S. Bureau of Labor Statistics (BLS) reported that clergy members made a median annual salary of $44,250 in 2015, and religious activities and education directors brought home $38,780 (www.bls.gov). The BLS also projected 6% job growth for members of the clergy, from 2014-2024, while religious activities and education directors could expect a 4% growth.