Certified Pharmacy Technician with Internship — Now Offers Online
---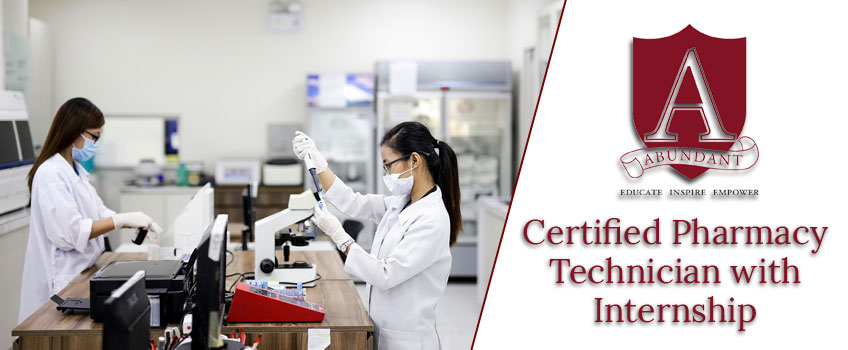 WASHINGTON, DC — New research shows nationally certified pharmacy technicians are more committed to a pharmacy career and have a greater desire to take on new and expanded responsibilities than noncertified. The study*, "Assessing Pharmacy Technician Certification," published in the June 2019 Journal of the American Pharmacists Association (JAPhA), compared the viewpoints of certified and noncertified technicians and explored the perceived value of certification in the areas of medication safety, skills and abilities, experience, career engagement and satisfaction, and productivity.
Abundant/A Pharmacy Technician program is an official PTCB-Recognized Program
Our program is listed as recognized by the PTCB website, as an education partner.
Our Pharmacy Technician certificate program will prepare students to become skilled entry-level healthcare technicians. In addition to industry-leading training, students will receive practical, hands-on experience. The program will instruct students in a number of areas including medical terminology, proper drug administration, drug classifications, and pharmacy management.
Pharmacy technicians are responsible for handling all aspects of the prescription fulfillment process and assisting the pharmacist with day-to-day operations. Aspiring pharmacy techs can complete a certification program or at the least have a two-year associate degree program.
Pharmacy technicians are multi-faceted members of the pharmacy team. They work closely with a licensed pharmacist and other pharmacy staff. Some of their daily job responsibilities may include assisting customers over the phone or in person, handling prescriptions, compounding, preparing medications for dispersal, and performing a variety of other administrative tasks.
Clinical Internship
The Pharmacy Technician program requires students to complete a mandatory 120-hour clinical internship. Students will be placed at a clinical site by the ATI. The internship is designed to provide practical training in a real work environment; students will have a mentor who trains and guides them. Students are not permitted to begin the internship until all required classroom and lab hours are completed.
ATI has numerous clinical affiliations at healthcare facilities and retail pharmacies throughout South Jersey and the surrounding areas. Students will be placed at one or more of these clinical sites and must complete their clinical hours based on the schedule provided by the school or Internship sites. Internship schedules are based on the availability of clinical sites. All students (Day and Evening) must be prepared to complete their internship during normal business hours (Monday through Friday). The majority of clinical sites do not allow students to complete clinical hours in the evening or on the weekend.
Employment for Pharmacy Technicians
Pharmacy technicians are employed in both local retail pharmacies, distribution centers/warehouses, and hospitals. Job opportunities for pharmacy technicians may also be found with online pharmacies, pharmaceutical manufacturers, nursing homes, and insurance companies. Job growth is expected to increase over the next ten years, so job prospects are very good for qualified technicians.
Certification / Registry Exam Eligibility
Pharmacy technician graduates are eligible to take the Pharmacy Technician Certification Exam offered by the Pharmacy Technician Certification Board (PTCB). Graduates who pass the exam will earn the Certified Pharmacy Technician (CPh T) credential.
Eligibility requirements for the CPh T credential are solely determined by PTCB, and are subject to change at any time. PTCB is an independent organization. ATI does not guarantee certification/registry exam eligibility.
Pharmacy technicians in New Jersey are required to register with the State Board of Pharmacy.
Program Length
400 clock hours
Classroom instruction and lab – 280 hours
Clinical internship – 120 hours
The program can be completed in approximately 5 months.
Comprehensive Education and Training
Medical Terminology
Drug Administration
Drug Regulation and Control
Pharmaceutical Formulation
Sterile and Nonsterile Compounding
Pharmacy Management
Employment Opportunities
Hospitals
Local retail Pharmacies
Nursing Homes
Online Pharmacies
Distribution centers/warehouses
Pharmaceutical Companies
Minimum Admission Requirements
High school diploma or equivalent
Personality and Cognitive Assessment
ASK ABOUT OUR 6 WEEK PTCB ONLINE INSTRUCTOR LED CERTIFICATION EXAM PREPARATION COURSE!