Certified Pharmacy Technician with Internship — Now Offers Online
---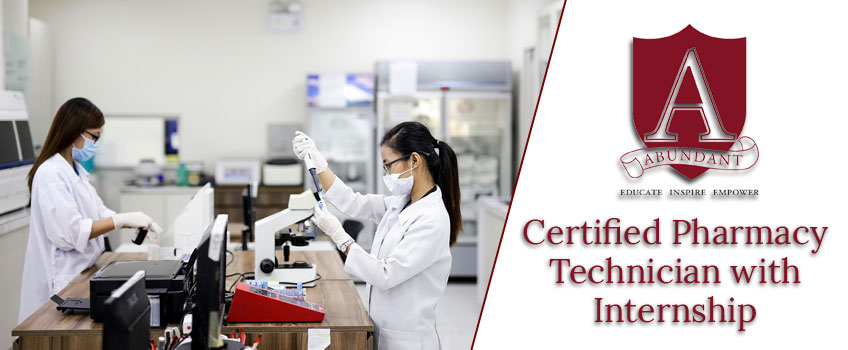 WASHINGTON, DC — New research shows nationally certified pharmacy technicians are more committed to a pharmacy career and have a greater desire to take on new and expanded responsibilities than noncertified. The study*, "Assessing Pharmacy Technician Certification," published in the June 2019 Journal of the American Pharmacists Association (JAPhA), compared the viewpoints of certified and noncertified technicians and explored the perceived value of certification in the areas of medication safety, skills and abilities, experience, career engagement and satisfaction, and productivity.
Abundant Pharmacy Technician program is an official PTCB-Recognized Program and Our program is listed as recognized by the PTCB website, as an education partner.
"A pharmacy technician is a title-protected, licensed health care provider who performs pharmacy-related functions, working collaboratively with a licensed pharmacist. Pharmacy technicians work in a variety of locations (usually in community, retail, and hospital pharmacies), but can also work for long-term care facilities, pharmaceutical manufacturers, third-party insurance companies, computer software companies, or in government or teaching. Job accountabilities include dispensing prescription drugs and other medical devices to patients and instructing on their use. They may also perform administrative duties in pharmaceutical practice, such as reviewing prescription requests with doctor's offices and insurance companies to ensure correct medications are provided and payment is received. Pharmacy technicians often take on the role of Compounding Supervisor, overseeing day to day sterile and non-sterile dose preparation while meeting standards required by regulatory bodies."
"In recent times, pharmacy technicians also speak directly with the patients on the phone to aid in the awareness of taking medications on time. In many countries, both developed and developing, the relative importance of pharmacy technicians within the pharmacy workforce has been amplified in recent years, largely as a reaction to pharmacist shortages, resulting in an increase in their numbers and responsibilities; alternative medicine, pharmacotherapeutics, customer care, retail and hospital software systems, inventory management, and infection control."
"Practical training, such as completing an internship in a pharmacy, is required as part of training for licensing and employment as a pharmacy technician. Many employers favor pharmacy technicians to be certified with a national or local pharmacy board, such as by passing standard examinations, including paying a fees and liability insurance."
Pharmacy technicians are responsible for handling all aspects of the prescription fulfillment process and assisting the pharmacist with day-to-day operations. Aspiring pharmacy techs can complete a certification program or at the least have a two-year associate degree program.
Our Pharmacy Technician program is offered as an Instructor led virtual online Instruction.
Employment for Pharmacy Technicians
Pharmacy technicians are employed in both local retail pharmacies, distribution centers/warehouses, and hospitals. Job opportunities for pharmacy technicians may also be found with online pharmacies, pharmaceutical manufacturers, nursing homes, and insurance companies. Job growth is expected to increase over the next ten years, so job prospects are very good for qualified technicians.
Certification / Registry Exam Eligibility
Upon completion of the Pharmacy technician program, students are eligible to take the Pharmacy Technician Certification Exam offered by the Pharmacy Technician Certification Board (PTCB); where they will be earn the Certified Pharmacy Technician (CPh T) credential.
Program Length
400 clock hours
Classroom instruction and lab – 280 hours
Clinical internship – 120 hours
The program can be completed in approximately 4 months.
Employment Opportunities
Hospitals
Local retail Pharmacies
Nursing Homes
Online Pharmacies
Distribution centers/warehouses
Pharmaceutical Companies
Minimum Admission Requirements
High school diploma or equivalent
ASK ABOUT OUR 6 WEEK PTCB ONLINE INSTRUCTOR LED CERTIFICATION EXAM PREPARATION COURSE!