Preschool and Infant/Toddler CDA, A Dual Accreditation
---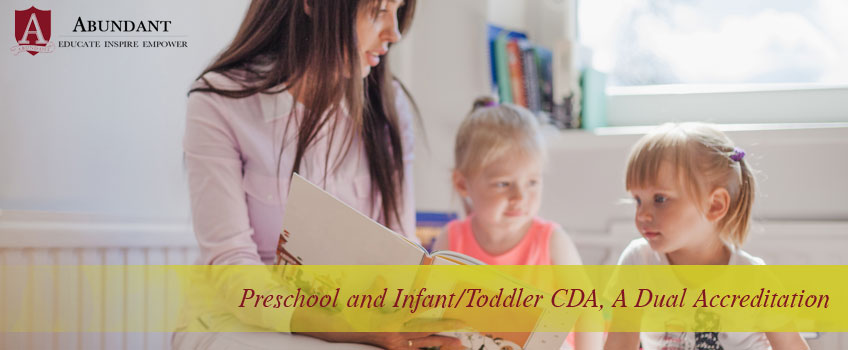 The most widely accepted credential, in early learning and development of a child, is The Child Development Associate (CDA) Credential.
We at Abundant Training Institute aim at providing students with various skills and knowledge needed to clear the exams laid by the Council for Professional Recognition. Our program is created in such a manner that it helps you to become a well qualified teacher or childcare personnel in your life. You will be certified with CDA Certification NJ at the end of the programs.
Abundant Training Institute's CDA Training NJ consists of 300 class hours consisting of 7 module training program along with practical training needed to qualify. There are weekly four Cohorts meet for a time duration of six months between the time period of 6 to 9 PM. Our training program consists of not only dealing with normal children, we also aim to train our candidates in ways to successfully deal with special children and children with behaviour problems. We make our candidates strong enough to handle any situation and circumstances and teach them the ways to use age appropriate tools in the process of teaching children. We also excel in both infant/toddler and preschool advertisements. We also assist our students with their professional portfolio creation. Our CDA training NJ is conducted in Spanish& English too.
Eligibility and other Requirements
• Diploma in High School or GED
• Age should be 18 years or above.
• You need to have experience in Professional Childcare in the District of Columbia for the group you are applying. Experience with each of the three infant/toddler sub-groups: young infants (birth–8 months), mobile infants (9–17 months), and toddlers (18–36 months) OR with children aged 3 through 5 years old (preschoolers) is needed.
• We will need an approval letter from the director of your facility proving 120 work hours as a volunteer in a day care or a nursery with all age groups of children. You will need to complete 480 hours at the end of the training period.
Future of Childcare
• There can be an expected growth of 7% till 2026 in the occupation of Childcare unit.
• With more and more parents needing a proper Childcare for their children, the industry is sure to see growth in the coming years.
• There is immense scarcity of proper Childcare and pre-school establishments who can be reliable and provide both mental and emotional security to the parents and children. So a dependable system of Childcare will be heartily welcomed.
Job Prospects
• Trainers with CDA Certification NJ would find it easy to land up jobs owing to their special training and specific skills. They will be preferred over just a simple high school diploma holder or other candidates.
Work Environment
Childcare is mostly an outdoor activity and the workers may spend most of their time outdoors.
• According to the survey, childcare workers landed up 1.2 million jobs in 2016. Childcare workers got employment in several sectors as follows:
Lesson 2
Percentage Employment
40 hours
Workers who were self-employed
29%
Services in Childcare Units
25%
Private Home Childcare
18%
Education department, pre-schooling and elementary education
8%
Religious organizations and other civic organizations
7%
There are many different sectors where childcare workers are employed. A childcare worker has to be responsible and extremely passionate regarding his work. There are limitations imposed on the number of children under a single childcare executive in a private household.
Work Schedules
The schedule of the Childcare personnel varies from centre to centre. Some work full time and others are employed on part time basis. It is seen that 2 out of every 5 childcare worker works part time. The Childcare unit serves for longer hours for the convenience of parents so that they can easily drop and pick up their wards before and after their office hours.
A Childcare worker, working at a home, may have to adjust to the timing of the parents. Usually a full time worker works for an average of 40 hours a week. They may also need to stay overnight according to their job requirements.