QuickBooks Certified User — offered online with Instructor led live instruction
---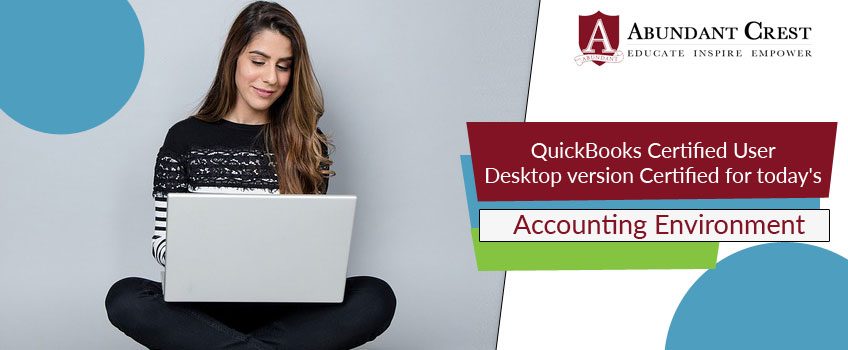 Need of QuickBooks Certification in NJ
Accounting in the 21st century requires more than information of GAAP standards or an eye for detail—understudies need desktop and computer abilities. Intuit® QuickBooks, the industry chief in administrative bookkeeping programming for business people and private company, gives a straightforward stage for understudies to handle bookkeeping ideas while sharpening abilities in the most common accounting application in independent venture today. Understudies can approve their QuickBooks learning by turning into an Intuit QuickBooks Certified User (QBCU).
Key advantages of QuickBooks Certification
• Validate QuickBooks learning and aptitudes for a situation in expert bookkeeping
• Demonstrate accounting abilities keenness in a substantial, quantifiable manner
• Position themselves as a dependable employee in front of the bosses
---
What is the Work of a Bookkeeping, Accounting, and Auditing Clerk?
Accounting, bookkeeping, and reviewing (auditing) representatives produce budgetary records for associations. They record financial exchanges, update articulations, and check money related records for exactness and accuracy.
---
Workplace
Accounting, bookkeeping, and auditors work in workplaces in offices and may do site visits. Around 1 of every 4 worked part time in 2016.
The Most Effective Method to Become a Bookkeeping, Accounting, or Auditing Clerk
Most accounting, bookkeeping, and inspecting representatives need some postsecondary instruction and furthermore become familiar with a part of their abilities at work. They should have fundamental math and basic computer knowledge, including information of spreadsheets and accounting programming.
---
Employment Outlook
Work of accounting, bookkeeping, and inspecting representatives is anticipated to indicate next to zero change from 2016 to 2026.
Requirements for Certification at Business Learning Institute in NJ
We prescribe some information of word and excel in computers. ad a partner of Intuit, you will receive expert instruction and will be eligible to to take the test through Certiport through Intuit QuickBooks Desktop Certified User (QBCU).