Microsoft Office Specialist w /QuickBooks Training Online
---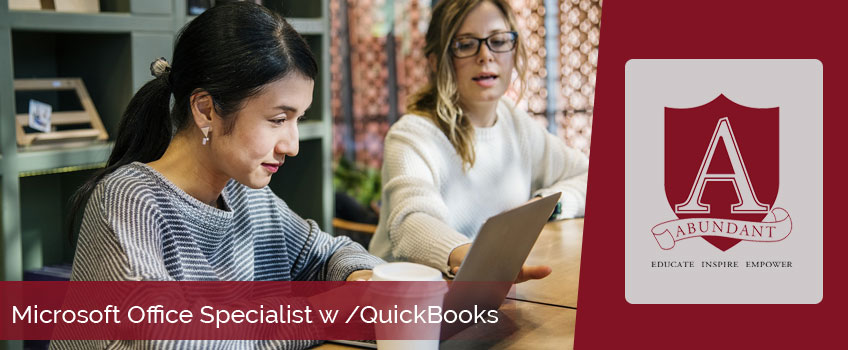 Microsoft Office Specialist Training program is designed to give specialized managerial help to proficient bookkeepers and other budgetary administration people (financial management). Microsoft Office Specialist Training incorporates guidance in presenting exchanges on records and financial transaction statements, record-keeping frameworks, bookkeeping programming activity on desktop, and general bookkeeping standards and practices.
You can get those significant capabilities by joining the Microsoft Office Specialist Training Program at Abundant.
Pupils who finish the course become proficient in utilizing Microsoft Windows, Word, Excel, PowerPoint, Outlook and QuickBooks. Methods of making striking resume and utilizing the Internet for quest for new employment are incorporated in the Microsoft Office Specialist Training Program.
The educational plan of our Microsoft Office Specialist Training Program is intended to get you in the entryway and be a triumph, in a wide range of ventures. Regardless of whether it is being in the Healthcare field or Information Technology or Business, we can give you the business aptitudes that you require for a vocation and a successful career.
In our Microsoft Office Specialist Training Program, we offer training the broadly utilized bookkeeping programming software, for example Quickbook Certified User and Microsoft Office. We can likewise update you with Microsoft Office Administration products. You can turn into an Administration Specialist, a bookkeeping programming software expert or an Applications Specialist.