Surgical Technologist/Technician/Scrub Technician–Hybrid
---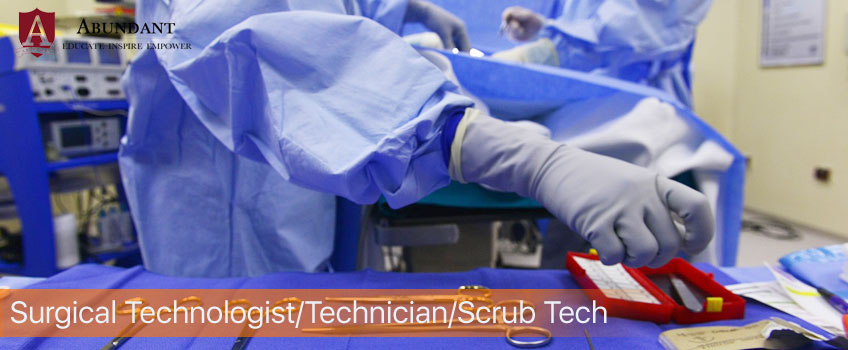 This program will prepare students to become skilled operating room technicians and or Scrub Technicians. Surgical technologists are key members of the surgical team who work closely with surgeons, anesthesiologists, registered nurses, and other surgical personnel delivering patient care and assuming other appropriate responsibilities before, during, and after surgical procedures.
Some of the primary responsibilities of surgical techs include prepping the operating room for surgery, maintaining a sterile environment, and distributing surgical instruments. They also play an important role in both preoperative and postoperative care. Clinical Internship
The Surgical Technologist program includes an optional 400- hour clinical internship. The purpose of the optional Internship allows students to determine if they have the flexibility to attend without jeopardizing failing the program due to non-completion. All students (Day and Evening) must be prepared to complete their internship during normal business hours (Monday through Friday). The clinical sites do not allow students to complete clinical hours in the evening or on the weekend. For those who are interested in pursuing a clinical internship, there is an additional cost. The Institution must have received notice from student 16 weeks prior to the completion of their program of interest to participate in an internship in order to coordinate with clinical sites. Students will be placed at a clinical site by Abundant Team. The internship is designed to provide practical training in a real work environment; students will have a mentor who trains and guides them. Students are not permitted to begin the internship until all required classroom and lab hours are completed.
Students may be placed at one or more of these affiliated sites once they begin and must complete their clinical hours once they begin. Internship schedules are based on the availability of clinical sites.
Employment Opportunities
Surgical technologists are employed in hospital operating rooms, emergency departments, ambulatory care centers, and central sterile processing departments. Some surgical techs are employed directly by surgeons in the "private scrub" role, while others work as operating room technicians. Their broad educational background plus specialized focus allows them to function well in a variety of different roles.
Employment possibilities include surgery schedulers, material managers, and central service managers. Other fields that offer employment opportunities for surgical technologists include organ/tissue procurement and preservation, cardiac catheterization laboratories, product development, research, and sales.
Certification / Registry Exam Eligibility
Surgical technologist graduates will be eligible to take the – Certified examination offered by the National Center for Competency Testing (NCCT). Graduates who pass the NCCT exam will earn the TS-C credential.
Eligibility requirements for the TS-C credentials are solely determined by NCCT and are subject to change at any time. NCCT are independent organizations. Abundant does not guarantee certification/registry exam eligibility.
Program Length
Classroom instruction and lab – 960 hours
Clinical internship – 400 hours (optional)
The day and evening programs can be completed in approximately 12 months.
Classes are offered as rolling schedule ( it is however based on student enrollment) Comprehensive Education and Training
Medical Terminology
Anatomy & Physiology
Instrumentation
Surgical Procedures
Sterilization
Infection Control
Aseptic Technique
Career Outlook
Salary range in NJ is $40,830 to $70,430
12% expected job growth in the US from 2016 to 2026 (faster than average)
Job opportunities in hospitals and outpatient medical centers
*Salary and job outlook information comes from the US Bureau of Labor Statistics. Employment outcomes are not guaranteed.
Minimum Admission Requirements
High school diploma or equivalent • Passing score on the Wonderlic Scholastic Level Exam (administered at Abundant) Selective Enrollment
The Surgical Technologist program has a selective application process. Meeting the minimum requirements does not guarantee you will be accepted into the program. From the pool of applicants, those who are considered most qualified for the study and practice of surgical technology will be admitted. Classes are small in size to ensure success.
Additional Program Requirements
The students are required to undergo the following: A Criminal background check Clean bill of health CPR prior to the completion of the program
This program is not offered through all of the Department of Labor One-Stop/job Center. Interested candidates may apply as a private student where up to 12-month payment plan is available to those who are eligible.