Surgical Technologist & Sterile Processing Technician with Internship
---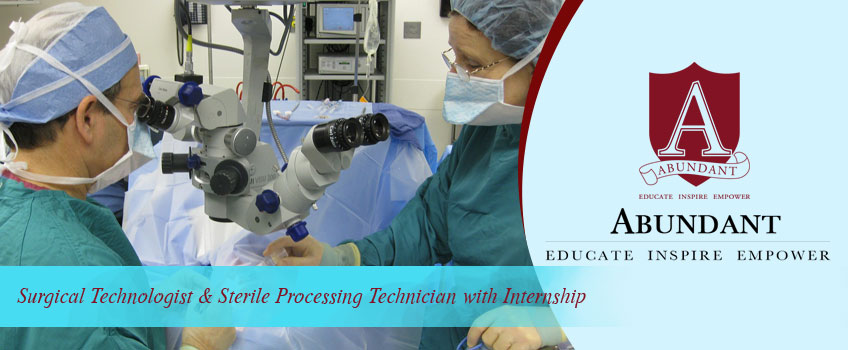 Surgical technicians work in an operating room as part of the operating team. Like sterile processing technicians, they have the responsibility of keeping the surgical instruments clean and sterile, but they also assist the surgeon and the nurses during surgery.
New Jersey Law now requires Surgical Technologists to be certified. The Surgical Technologist certificate program Accredited by NCCA through NCCT. While Sterile Processing Technicians program certification is offered through CBSPD. This program will prepare students to become skilled operating room technicians. Surgical Technologists are key members of the surgical team who work closely with surgeons, anesthesiologists, registered nurses, and other surgical personnel delivering patient care and assuming other appropriate responsibilities before, during, and after surgical procedures.They must be meticulously educated in antisepsis, aseptic techniquedisinfection, sterilization and emergency procedures. surgical instruments, wrapping and so much more.
Many employers are seeking individuals that has obtained both Sterile Processing and Surgical Technologist training and certification.
To comprehend the theoretical basis of surgical technology and function competently, students are educated to possess a solid foundation of knowledge in anatomy and physiology, pharmacology, microbiology, surgical procedures, and surgical instruments and equipment.
Surgical Technician Job Outlook
Note: All Occupations includes all occupations in the U.S. Economy. Source: U.S. Bureau of Labor Statistics, Employment Projections program
Employment of surgical technologists is projected to grow 12 percent from 2016 to 2026, faster than the average for all occupations. Advances in medical technology have made surgery safer, and more operations are being done to treat a variety of illnesses and injuries.
In addition, the aging of the large baby-boom generation is expected to increase the need for surgical technologists because older people usually require more operations. Moreover, as these individuals age, they may be more willing than those in previous generations to seek medical treatment to improve their quality of life. For example, an individual may decide to have a knee replacement operation in order to maintain an active lifestyle or to have cataracts removed to improve vision.
---
Sterile Processing Technician Job Outlook
The job outlook for surgical technologists, according to the BLS, is very favorable. They expect a growth in demand of 15% from 2014 to 2024, which is must faster than the national average for other occupations. As medical technology advances, more specialized knowledge in the different medical tools is also needed. Additionally, further research in infectious diseases and sterilization as a whole also increases requirements for qualified sterilization technicians. This is particularly true when it comes to hospital superbugs such as MRSA and more.
According to Indeed.com, the average national salary of jobs for Sterile Processing Technician was $36,000.00 with a high confidence ranking based on over 250 sources. Average Sterile Processing Technician salaries for job postings nationwide are 37% lower than average salaries for all job postings nationwide.
This program may not be offered through the Department of Labor One Stop / job Center. Interested candidates may apply as a private student where up to 12 month paymet plan is available to those who are eligible.