Surgical Technologist and Sterile Processing Technician with Internship
---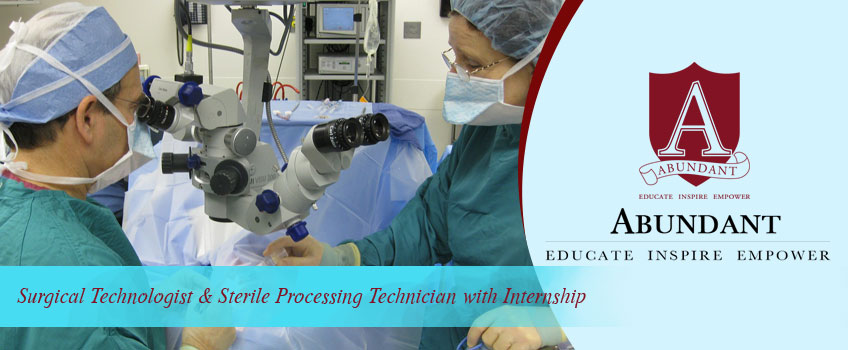 The work life of Surgical technicians centers around operating rooms in hospitals and clinics. The duties of a Surgical technician have been compared to those performed by a Sterile processing technician. Each of these technicians are charged with seeing that all surgical instruments used by the operating team are first, clean to standard and second, sterile. Surgical technicians are considered assistants to the operating surgeon as well as to the attendant nurses. These well-trained technicians contribute to a smooth operating procedure and are considered invaluable team members in the operating theater.
At ATI, we pride ourselves on being the sole institute which can boast of a combined curriculum featuring courses for both Surgical technicians and Sterile processing technicians. These courses are available to be taken in tandem or individually.
For those students who do opt for the combined courses (Surgical technician/Sterile processing technician) the dual program ensures that you are completely prepared for all three national certifications in these fields. These are:
Certification exams CBSPD (Sterile processing technician)
IAHCSMM (Sterile processing technician) Students will qualify if they have 400 hours of on-hand/work experience.
NCCT TS-C (Surgical technician) – Accredited by NCCA. Eligible after internship.
At ATI, our aim is to create accessible, high-caliber courses which train students for the booming fields of Surgical technician and Sterile processing technician. Classes focus on a familiarity with surgical protocols and procedures, and human anatomy. The purpose is to train you to develop into an indispensable component of a surgical team. As part of what you will learn will be a firm understanding of the most basic of support services. Our goal is to enable students to fully comprehend all aspects of each and every patient-centric occurrence while in the operating theatre.
Get Skilled
What qualifies as a skilled technician in these arenas? Once you have achieved an aptitude in the premise, as well as competency in completely aseptic (free of harmful microorganisms) and sterile techniques, then will you begin to work on honing your character so that you are possessed of patience, grace under pressure, a high sense of responsibility and an aptitude for organization. These traits are critical for those who–as you will be doing–function in emergency situations where a great deal of pressure abounds. And, most important, as you progress throughout the program, you'll access a greater, more comprehensive understanding of what your fellow surgical team members — and the patients — require.
Get Hired
Be assured that entry-level Surgical technician and Sterile processing technician candidates are much in demand in the health field today. The operating room theatre counts on these team members to ensure that all crucial aspects of an operating room set up are in place. Qualified candidates are sought in infirmaries, hospitals, clinics, surgical centers and all facilities that provide outpatient care. The demand for these positions is accelerating. The number one reason for this is the uptick in population growth and in the elderly demographic. You will, once you graduate, be primed to tackle the National Examination for Surgical technicians. Passing this exam will place you in a pool of most desirable candidates and will allow you to pursue higher opportunities as you explore your expanded healthcare profession options.
Surgical Technician Job Outlook
Note: Professional occupations extrapolated only from those within the U.S. Economy. Source: Employment Projections program – U.S. Bureau of Labor Statistics.
Based on the most recent data, it is projected that the Surgical technologist job market will accelerate around 12% in the years leading up to 2026. There are multiple factors responsible for such a jump, but the most well known are 1) ground-breaking discoveries in medical technology which have strengthened the protocols surrounding surgery, and 2) the fact that there are now more surgeries performed than ever before, as the medical profession seeks to treat disease and emergencies.
Sterile Processing Technician Job Outlook
The prestigious Burau of Labor Statistics has given a thumbs up to the projected growth of Surgical technologists in this country. For the foreseeable future, it is conjectured that job growth will peak around 15% . To put it in perspective, this rate is very much in excess of the speed with which other professions are increasing in demand, nationally. There is also the school of thought which points to the development of more sophisticated technology which, of course, requires this very same level of expertise in the using of medical tools in the workplace. Too, much investigative study of contagious illnesses has borne out more in-depth analysis of the use of sterilization. These advances require that high level of familiarity with the subjects by qualified Surgical technicians. As we are all aware, there is a plethora of contaminating microbes, known as "superbugs", which have infected clinics and hospitals (MRSA, etc.) This leads to a correlating need for specialists which can help combat these microbes.
Glassdoor has posted an average base pay salary of $39,712 for Surgical technicians in the U.S. Glassdoor estimates that this salary is just below the Median Salary range of $40,000. Indeed.com, Linkedin and Glassdoor all feature Surgical technician jobs, a few with attractive sign-on bonuses.
Candidates are eligible to apply for financing through finance partners.