Surgical Technologist & Sterile Processing Technician with Internship– Hybrid
---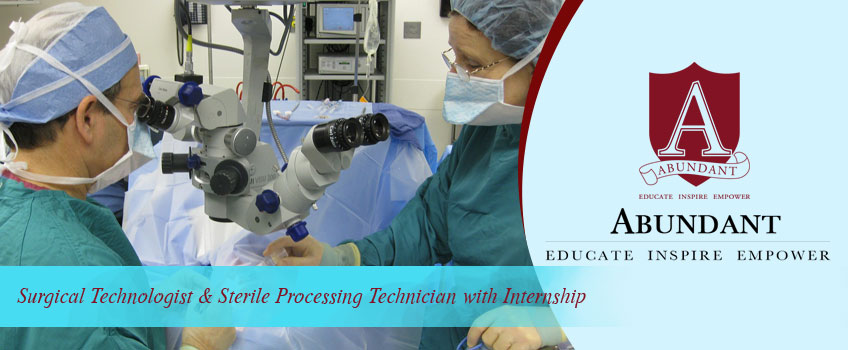 Surgical technicians work in an operating room as part of the operating team. Like sterile processing technicians, they have the responsibility of keeping the surgical instruments clean and sterile, but they also assist the surgeon and the nurses during surgery.
We are the only institution that offers a combined Surgical Technician and Sterile Processing Technician program that can be taken as a combination program or a single program as a sterile processing Technician or Surgical Technician.
Get Trained
Our Surgical Technician/Sterile Processing (Dual program) prepares you for three national certifications!
Certification exams CBSPD (Sterile Processing Distribution Technician)
IAHCSMM (once 400 hours have been earned for Sterile Processing Tech)
NCCT TS-C Surgical Tech accredited by NCCA (after Internship)
We provide you high-quality training in the ever-growing and much needed Surgical Technician/Sterile Processing Tech profession. You'll learn to combine the knowledge of human anatomy, surgical procedures, and technologies to become an invaluable member of a surgical team. You will gain a strong foundation in basic and support services, allowing you to understand and cope with various patient-focused events that occur in the operating room.
Get Skilled
This program helps you achieve expertise in the theory and application of sterile and aseptic techniques. You will develop a stable temperament, patience, a good sense of responsibility, and a concern for the order that will enable you to perform optimally in high pressure and emergency situations. Throughout your program, you will gain a heightened awareness of patients' and surgical teammates' needs.
Get Hired
Secure the desired career as an entry-level Surgical Technician or Sterile Processing Technician, a critical component of any successful operating room team. Hospitals, surgical centers, and outpatient facilities have an increasing demand for these allied health professionals as they need to meet the needs of a growing and aging population. As a graduate of the Abundant Crest, you will be sufficiently prepared to pass the National Examination for Surgical Technicians, opening up even more doors of opportunity to further advance your healthcare career.
Surgical Technician Job Outlook
Note: All Occupations include all occupations in the U.S. Economy. Source: U.S. Bureau of Labor Statistics, Employment Projections program
Employment of Surgical Technologists is projected to grow 12 percent from 2016 to 2026, faster than the average for all occupations. Advances in medical technology have made surgery safer, and more operations are being done to treat a variety of illnesses and injuries.
Sterile Processing Technician Job Outlook
The job outlook for surgical technologists, according to the BLS, is very favorable. They expect a growth in demand of 15% from 2014 to 2024, which is must faster than the national average for other occupations. As medical technology advances, more specialized knowledge in the different medical tools are also needed. Additionally, further research in infectious diseases and sterilization as a whole also increases requirements for qualified sterilization technicians. This is particularly true when it comes to hospital superbugs such as MRSA and more.
According to Indeed.com, the average national salary of jobs for Sterile Processing Technician was $36,000.00 with a high confidence ranking based on over 250 sources. Average Sterile Processing Technician salaries for job postings nationwide are 37% lower than average salaries for all job postings nationwide.
This program may not be offered through the Department of Labor One-Stop- job Center. Interested candidates may apply as a private student where up to a 12-month or 60- month payment plan is available to those who are eligible.