Sterile Processing Technologist/Technician — Now Offers Online
---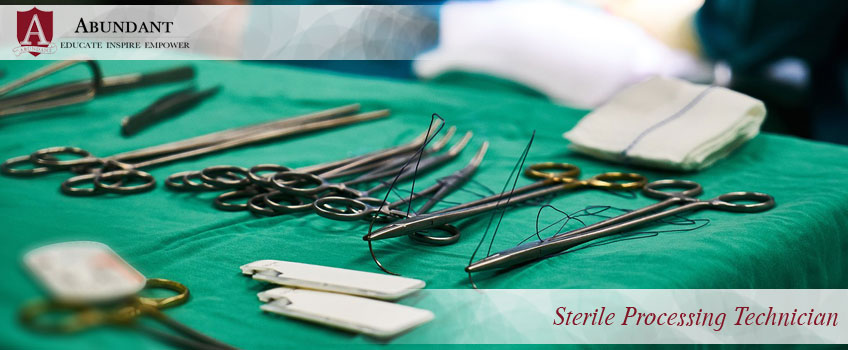 Sterile instrument technicians, also known as sterile processing technicians, who are responsible for thoroughly sterilizing all surgical instruments before they are used to operate on patients. They also are responsible for making sure that surgical rooms are stocked with instruments and other necessary supplies.
Although surgeons, surgical technologists, nurses, and anesthesiologists are often the more visible providers of safe and superior surgical care, there is a little known group of folks called Sterile Processing Techs who work behind the scenes to perform critical functions in infection control and support the delivery of excellent care and patient safety in today's modern medical facilities and hospitals.
In most modern healthcare settings there exists a wide diversity of medical equipment preparers and/ or allied health support staff professionals that ply their respective expertise and medical discipline day-in and day-out to work in partnership with their allied health colleagues, other medical professionals, and patients.
Students enrolled in this program will learn various sterilization techniques, including the proper method for decontaminating and sterilizing surgical instruments and equipment. They will also gain a solid understanding of microbiology and infection control. Other topics covered in this program include medical terminology, human anatomy, surgical instrumentation, sterile processing, and safety & risk management. Students will also learn about federal and state guidelines, including HIPAA.
Program Length
350 clock hours
Classroom instruction and lab – 350 hours
The day & Evening program can be completed in approximately 5 months.
Comprehensive Education and Training
Medical/Surgical Terminology
Anatomy & Physiology
Surgical Instrumentation
Sterile Processing
Microbiology
Infection Control
Safety & Risk Management
The training includes a combination of didactic and lab hours. Abundant has a dedicated surgical lab that provides the perfect environment to train students and allow them to practice their psychomotor skills. Abundant do not offer an internship with this program.
If you were to perform a job search query on the job title of Sterile Processing Technician you might be surprised by the variety of occupational titles in the results as these professionals are known by many different technical job titles including:
• Central Processing & Distribution Technician (CSPD Tech)
• Central Processing Technician (CPT)
• Central Sterile Processing Technician (CSPT)
• Central Sterile Supply Technician (CSS Tech)
• Instrument Technician
• Sterile Processing & Distribution Technician (SPD Tech)
• Sterile Preparation Technician
Look for that information under the category of "medical equipment preparers" at the U.S. Bureau of Labor Statistics. Their salary depends on where you live and your experience, but in May 2013 the median wage reported for the profession was $33,310. The good news is SPD techs advance into supervisory positions, like lead tech or department manager. The job outlook is rosy in the sterile processing department, with employment expected to grow by 17 percent between now and 2020! Right now certification is only required in New Jersey; however, the same mandate is pending in New York and Pennsylvania, too.
Certification / Registry Exam Eligibility
Sterile Processing Technician graduates will be eligible to take the Certified Sterile Processing Distribution Technician (CSPDT) exam offered by CBSPD. Once gainful employment and accumulated 400 hours of work experience, the student may then take the Certified Registered Central Service Technician (CRCST) exam offered by IAHCSMM. Our program is aligned with both CSPDT and IAHCSMM.
Eligibility requirements for the SPD and CRCST credential are solely determined by CBSPD and IAHCSMM and are subject to change at any time. CBSPD and IAHCSMM is an independent organization. ATI does not guarantee certification/registry exam eligibility.
This program is not offered through the Department of Labor One-Stop/job Center. Interested candidates may apply as a private student where up to 12-month payment plan is available to those who are eligible.
Minimum Admission Requirements
High school diploma or equivalent
Passing score on the Wonderlic Scholastic Level Exam (administered at ATI)