Sterile Processing Technologist/Technician — Instructor-Led Online Courses
---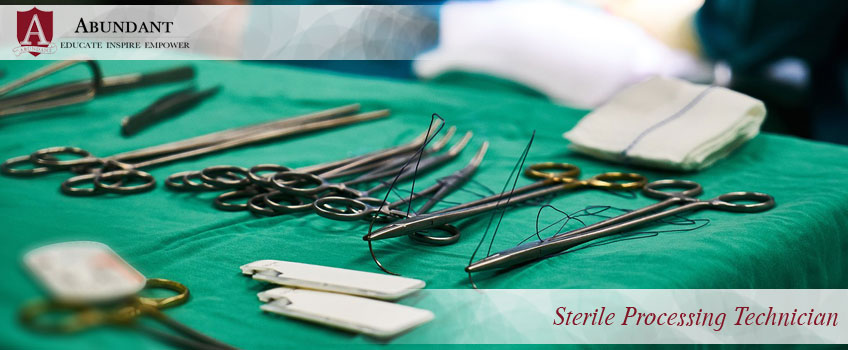 Sterile processing technicians are also referred to as instrument technicians and medical equipment preparers. These techs are called upon to afford maintenance to patient care in a healthcare institution.
This Tech Goes By Other Titles
There are similar names and titles given to a Sterile processing technician and a list of these follows:
Central processing technician (CPT),
Central service technician (CST),
Central sterile supply technician (aka CSS technician),
Certified registered central service technician (CRCST),
Instrument technician,
Sterile preparation technician,
Sterile processing and distribution technician (aka SPD tech),
Sterile processing technician (aka Sterile processing tech),
Sterile technician, and
Sterilization technician.
Source of titles: Bureau of Labor Statistics
A Listing of Employment Responsibilities:
A Sterile processing tech has several varied duties and they include:
Present oneself at educational conferences and stay up-to-date on medical news.
Ensure medical instruments are clean to standard.
Assure that all medical equipment is in working order.
Provide a current, running list of all medical supplies.
Be familiar with and be prepared to operate medical instruments..
Provide properly prepared medical equipment for use by other members of medical team.
Maintain medical instruments in working order.
Log data and vital statistics or comparable health information. and
Supply replenished supplies as needed. ens
Length of Courses/Program:
Classroom instruction and lab lasts for a total of 350 hours
Either Day or Evening classes may be completed in approximately four months.
Comprehensive Education and Training
At AATI, our training includes the following courses:
Accepted Safety and Risk Management
Anatomy and Physiology
Infection Control
Medical and Surgical Terminology
Microbiology
Surgical Instrumentation
Sterile Processing
Certification / Registry Exam Eligibility:
Sterile Processing technician graduates are qualified to sit for the Certified Sterile Processing Distribution Technician (CSPDT) exam offered by CBSPD.
After a student has both obtained paying employment and assembled 400 hours of (income-producing or as a volunteer) employment experience, the candidate may sit for the Certified Registered Central Service Technician (CRCST) exam proffered by IAHCSMM At ATI, our courses correlate with with both CSPDT and IAHCSMM.
Minimum Admission Requirements:
High school diploma or equivalent