Physical Therapist Aides/Medical Administrative Assistant Hybrid
---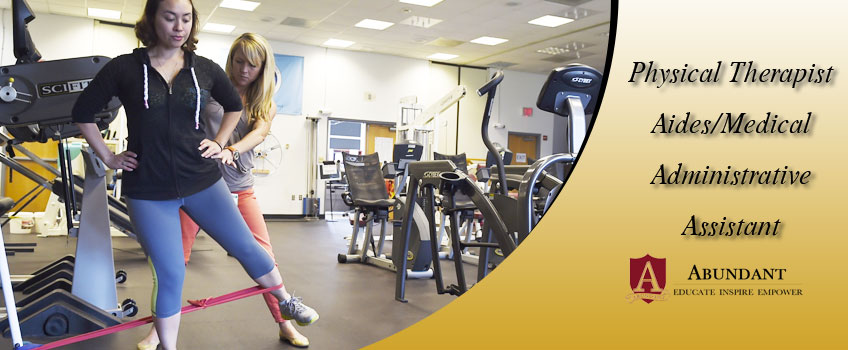 A Certified Physical Therapist Aid/Medical Administrative Assistant are an important part of a professional physical therapy staff. They are employed by hospitals, physical therapy offices, orthopedic clinics, and personal care facilities to work under the direct supervision of Physical Therapist and their assistants. A Physical Therapist Aide /Medical Administrative Assistant may manage a front desk, assist in caring for the facility, can help patients to and/or from the therapy areas, complete clerical tasks, answer phones, and assist patients with insurance paperwork. CPTAS play a significant role in helping to make therapy sessions productive for Physical Therapists and pleasant for the patients.
This program will teach students the concepts, and the necessary skills to work with patients about career opportunities, ethical and legal issues, and communication and clerical duties concerning physical therapy aides. The program also concentrates on helping student develop skills to submit medical claims for reimbursement, process bills, and develop a working knowledge of various insurance plans as well as administrative procedures. Upon successful completion, students will be eligible to take the American Medical Certification Association's (AMCA) Physical Therapy Technician/Aide certification exam or the Certified Physical Therapy aide specialist (CPTAS) exam.
Employment in healthcare occupations is projected to grow 15 percent from 2019 to 2029, much faster than the average for all occupations, adding about 2.4 million new jobs. Healthcare occupations are projected to add more jobs than any of the other occupational groups. This projected growth is mainly due to an aging population, leading to greater demand for healthcare services.