Certified Physical Therapy Aide Specialist (CPTAS)–Hybrid
---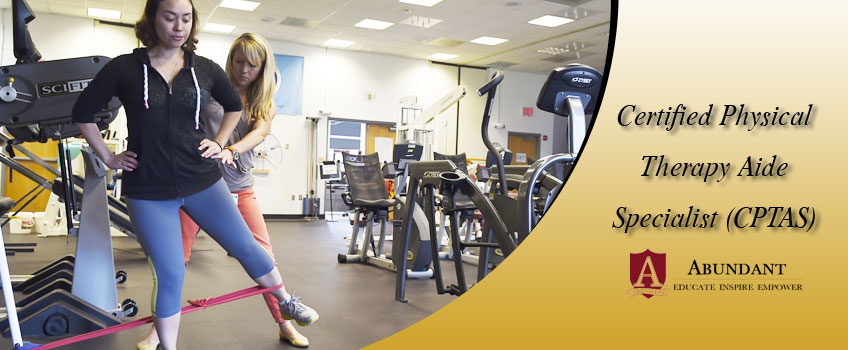 Certified Physical Therapy Aide Specialist (CPTAS)
Certified Physical Therapy Aide Specialists (CPTAS) are an important part of a professional physical therapy staff. Certified Physical Therapy Aide Specialists (CPTAS) are employed by hospitals, physical therapy offices, orthopedic clinics, and personal care facilities to work under the direct supervision of Physical Therapist and their assistants. Certified Physical Therapy Aide Specialists (CPTAS) assist in caring for the facility, help patients to and/or from the therapy areas, complete clerical tasks, answer phones, and assist patients with insurance paperwork. CPTAS play a significant role in helping to make therapy sessions productive for Physical Therapists and pleasant for the patients
---
Work Environment
Most physical therapist assistants and aides work in physical therapists' offices or in hospitals. Physical therapist assistants and aides are frequently on their feet and moving as they set up equipment and help care for patients.
---
How to Become a Physical Therapist Assistant or Aide
Physical therapist assistants entering the profession need an associate's degree. All states require physical therapist assistants to be licensed or certified. Physical therapist aides usually have a high school diploma and receive on-the-job training.
---
Job Outlook
Overall employment of physical therapist assistants and aides is projected to grow 30 percent from 2016 to 2026, much faster than the average for all occupations. Demand for physical therapy is expected to increase in response to the healthcare needs of an older population and individuals with chronic conditions, such as diabetes and obesity.
---
Certification Requirements
NCCB certifications are available to everyone that has formal training, work experience or has been self-trained in their field of expertise. Our goal is to be the initial certification organization to validate your education.
---
Eligibility requirements for the NCCB credentials are solely determined by NCCB and are subject to change at any time. The NCCB is an independent organizations. ATI does not guarantee certification/registry exam eligibility.