Certified EKG/ECG & Telemetry Technician — Now Offers Online
---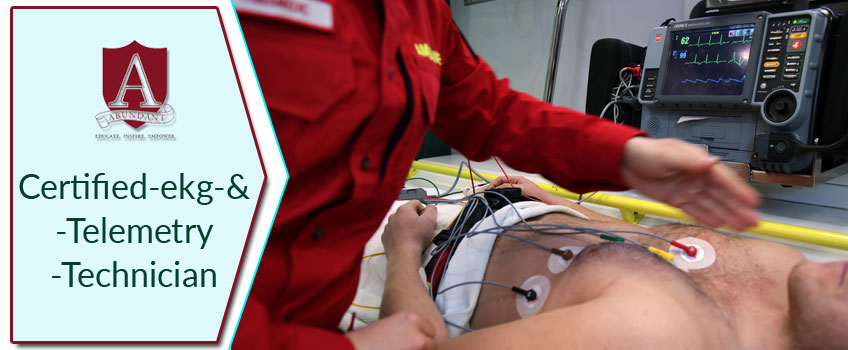 EKG Technician: Career Summary, Job Outlook, and Education Requirements
An Electrocardiogram (EKG) Technician learns the usage of modern scientific instruments in order to help doctors with checkups. They help in diagnosis of patient's heart. More about the training process and job prospectus of an EKG Technician is discussed below.
What does an EKG Technician mean?
An EKG technician is in charge of monitoring and handling of EKG device during check-ups or during operations and surgeries. The technician then reports the concerned doctor regarding the readings and observations on the device. He is also in charge of the up-keeping and maintenance of the device. Know more about EKG Technician Certification NJ here below:
| | |
| --- | --- |
| Degree Needed | Certificate Granted along with on job training |
| Field of Education | Technology in Cardiovascular Field |
| Main Responsibilities | Main Responsibilities Operation and monitoring of the EKG equipments, conducting cardiovascular test, reporting the doctors regarding patients health records |
| Job Expansion (2014-2024)* | 22% (for all cardiovascular technicians) |
| Average Salary (2015)* | |
Source: *U.S. Bureau of Labor Statistics
What Job does an EKG Technician perform?
In the event that you become an EKG professional, you will work under the heading of a doctor while utilizing EKG equipment to screen the pulses and blood pressure of patients. You will join terminals from an EKG machine to a patient and print out an EKG for survey by a doctor. This sort of test might be utilized to analyze heart issues or decide a patient's appropriateness for medical procedure. Your other activity obligations could incorporate booking arrangements, disclosing test methods to patients, taking restorative narratives and keeping up testing device.
If you experience propelled preparing, you may likewise perform stress tests and Holter screen techniques. During Holter screen testing, you will append terminals that are associated with a portable EKG screen to a patient. Following 24 hours or more, you will check the recordings for quality and after that make a printout for a doctor. If you perform stress testing, you will connect the patient to an EKG machine utilizing terminals and electrodes and screen the patient while the individual strolls or keeps running on a treadmill. A doctor will contrast the outcomes with a standard reading.
---
Employment prospectus of an EKG Technician?
The U.S. Bureau of Labor Statistics (BLS) anticipated that the decade 2014-2024 could see, work and employment of every single cardiovascular professional and technologist, an increment by 22% (www.bls.gov). As the population grows old, more aged individuals will require more EKGs, since coronary illness and other cardiovascular issues become increasingly predominant with age. Since emergency clinic helpers frequently have supplanted EKG professionals who are just capable in EKGs, you ought to likewise be comfortable with Holter observing and stress testing to expand your activity and job prospects.
---
Telemetry Technician Job Outlook
Telemetry Technicians are reliable and popular. Doctors and surgeons need their help and assistance in their work. The job vacancy and recruitment process is high in 2018 and is constantly on a rise.
Telemetry Technicians are the highly trained ones who have the prior access to monitor the screens that shows patients condition. Even the doctors and nurses are the secondary ones in viewing the screening. With this scrupulousness, the telemetry unit can keep on observing patients in the best way. The telemetry occupation is sought after on the grounds that it offers hopeful and promising screen experts, a chance to work firsthand with cardiovascular therapeutic offices, demonstrating to be both testing and fulfilling.
Telemetry technicians are subjected to full time employed just like Cardiovascular technician. They need to work for around 40 hours in a week. They also have the facility to earn extra by working part time. Some work in emergency clinics, others work in centres, doctor workplaces or medicinal/demonstrative research facilities. Certain therapeutic checking experts require a partner degree or postsecondary authentication certification. The activity view point and job prospectus for Telemetry Technicians are on an enduring slope.
---
Telemetry Technician Certification NJ- Eligibility for Exam
Graduates are qualified to take the Certified Cardiographic Technician (CCT) test and the Certified Rhythm Analysis Technician (CRAT) test offered by CCI. Graduates who finish the CCT test will acquire the Certified Cardiographic Technician certification, and the individuals who breeze through the CRAT test will win the Certified Rhythm Analysis Technician accreditation.
ATI doesn't ensure confirmation/registry test qualification.