Certified Clinical Medical Assistant (CCMA) (3Certs) with Internship
---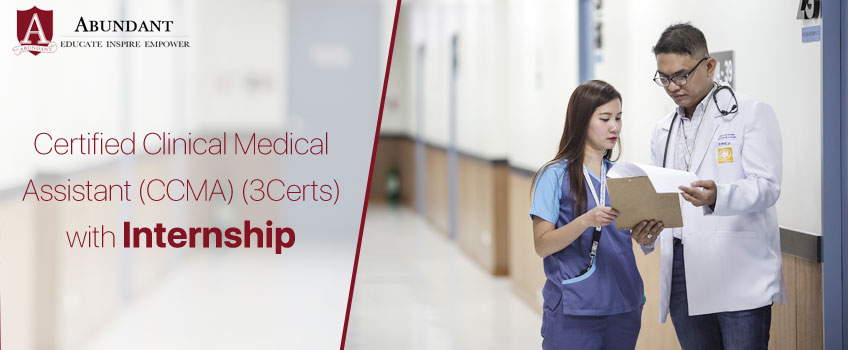 The Medical Assistant program covers various branches of knowledge including Medical Terminology, Anatomy and Physiology, Phlebotomy, EKG, and Medical Billing. Trainees likewise learn lab methods, clinical and indicative strategies, pharmacology, the organization of drugs, and medical aid. Office rehearses, relations with patients, medicinal law, and morals are additionally canvassed in the program.
Notwithstanding the standard abilities instructed in most restorative aide programs, understudies at AIMS are prepared in a few extraordinary zones that will enable them to stand apart from their associates. They will learn claim to fame aptitudes that can be used in OB/GYN and Paediatric practices. In addition all students learning medical assistance will be told altogether in appropriate injury care.
Occupation Outlook
Work of medicinal partners is anticipated to grow 29 percent from 2016 to 2026, a lot quicker than the normal for all occupations. The development of the maturing time of increased birth rates populace will keep on expanding interest for preventive restorative administrations, which are frequently given by doctors. Thus, in order to increase his own capacity to view more patients, a doctor will definitely have to employee more medical assistants to perform various medical tasks for the organization.
An expanding number of group practices, clinical centres, and other social insurance offices will also need workers as supporting hands, especially medical associates, to finish both authoritative and clinical obligations. Medical assistants work generally in essential consideration, a relentlessly developing part of the medicinal services industry.
---
Workplace
Medical assistants perform regulatory and clinical undertakings to keep the working of doctors and healthcare practitioners running easily.
Medical Assistants held around 634,400 employments in 2016. The biggest job providers of medical aides were as per the following:
• Workplaces of physicians- 57%
• State, local, and private hospital – 15%
• Outpatient care centers – 9%
• Workplaces of chiropractors- 4%
---
Work Routines
Most medicinal collaborators work all day. Some work extra during their free time such as during weekends or other holidays or festivals to make some extra money. The work timings demanded is 24×7 so a medical assistant can do plenty of time shifts.