Pharmacy Technician Training
---
The Pharmacy Technician certificate program is a PTCB-Recognized Education/Training Program. It will prepare students to become skilled, entry-level pharmacy techs. In addition to industry-leading training, students will receive practical, hands-on experience through the classroom and Internship site. The program will instruct students in a number of areas including medical terminology, proper drug administration, drug classifications, and pharmacy management.
Pharmacy technicians have many responsibilities. As a part of the medical profession, they work to ensure and improve the health of their patients. They must be skilled in several different areas and they undergo extensive training to prepare for their duties. We train students in Retail, Hospital and or mail order. Some of their daily job responsibilities may include assisting customers over the phone or in person, handling prescriptions, compounding, preparing medications for dispersal, and performing a variety of other administrative tasks.
What is the predicted career outlook for pharmacy technicians?
The Bureau of Labor and Statistics (BLS) anticipates "faster than average" employment growth for pharmacy technicians, growing more than 7% from 2018 to 2028. Formal education, work experience, and national certification can all help pharmacy technicians grow professionally and increase long-term earning potential. PTCB has a range of credentials to help pharmacy technicians support their career paths.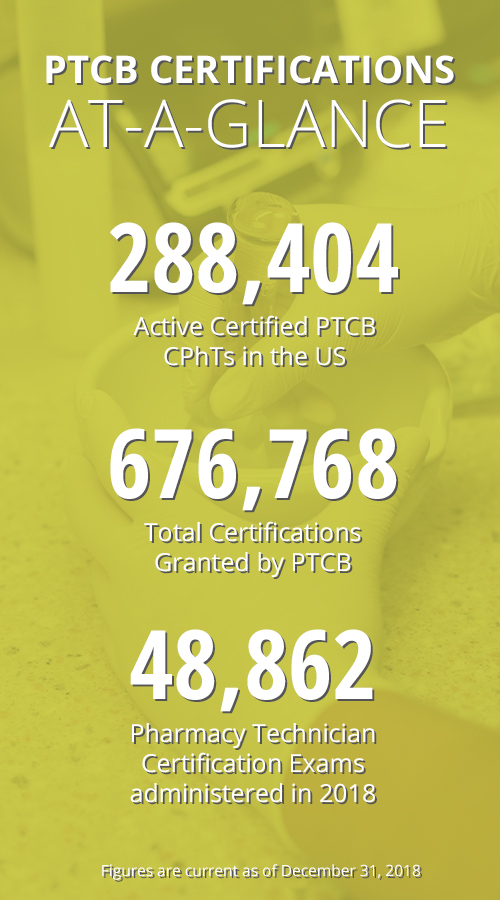 2015 Median* Pay: $14.62/hr
2018 Median Pay: $15.72/hr
2015 Median Pay: $30,410 annual
2018 Median Pay: $32,700 annual
Source: 2018 Occupational Outlook Handbook.
*The median wage is the wage at which half the workers in an occupation earned more than that amount and half earned less.
How will earning PTCB Credentials support your career?
When pharmacists are asked who they trust, the answer is PTCB. Community pharmacy employers often require PTCB CPhT Certification and more than 77% of health-system/hospital pharmacy technicians are certified by PTCB*. State Boards of Pharmacy typically require state licensure and/or national certification to ensure that practicing technicians meet certain qualifications. While working requirements vary from state-to-state, earning a PTCB credential can be instrumental in building an exciting and rewarding career in healthcare.
$5089 Fee includes: (an administration fee of $150 waived)
Payment plans are available if you qualify! Feel free to apply with no upfront commitment square.it/apply/atii